Evangelion's Push in Developments of Figure Production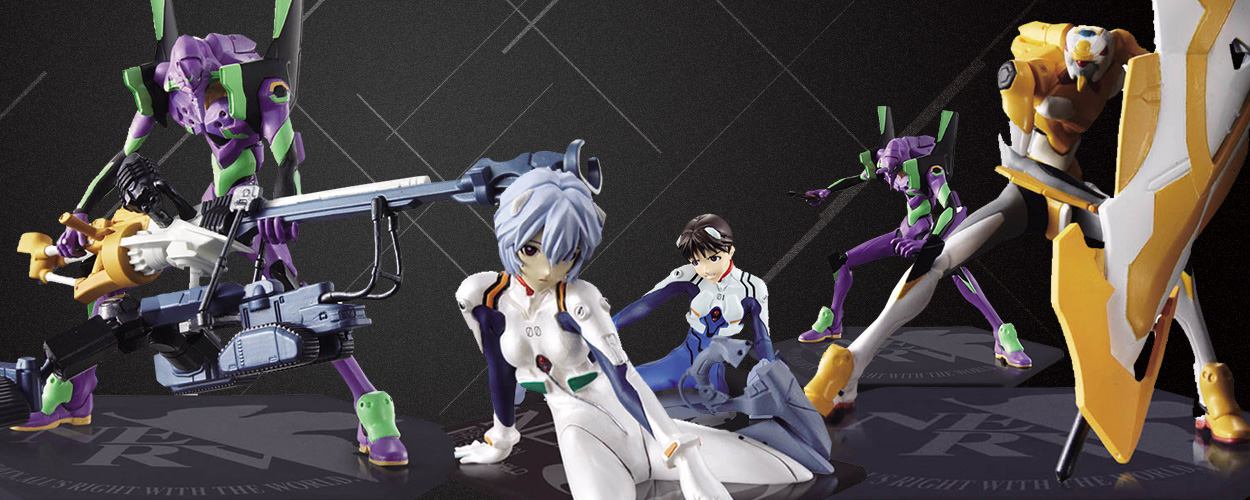 Evangelion and the Garage Kit Aesthetic
Changes caused by Neon Genesis Evangelion were not limited to garage kits and licensing systems, but also felt by regular retail products in general.
Some of us may find that toys based on animation and special effects series from earlier days are different from products that are available in present times. What we see now in the market is not as simple as products designed and created by toy manufacturers themselves. Products are no longer made to serve their purposes only as toys. Indeed, advancements in production quality and techniques have something to do with it, but it could be said that Evangelion products and the garage kit aesthetic certainly helped move everything forwards.
The top-quality details and gimmicks that are used to represent characters used to be accessible only by dedicated enthusiasts. Now, they are also available to the common consumer through regular retail items that are set at a lower price.
Evangelion and the Capsule Figure Prize
Let's take a look at the relationship between Evangelion and items like capsule figures, also known as gachapon or gacha gacha. As the series was broadcast, assembled and colored capsule figures began to make their appearance, rapidly forming a 21-century capsule figure battlefield that fought over quality, volume, and evolution. Evangelion capsule figures played a key role in the battle, as they were regularly produced by Kaiyodo and Bandai, two of the three companies competing for command of the capsule figure market. Ujin was the third company that did not feature Evangelion in its lineup.
At first, the capsule figures were fully colored and accurately represented the proportion of each character. They were closely followed by those with movable parts, and also other features that were made as an attempt to improve the quality of capsule figures. Even as new products continued to surface, Kaiyodo stayed true to its garage kit spirit, and Bandai continued to build upon its great gachapon history. Evangelion allowed Kaiyodo to use its spirit and aesthetic to its advantage, but also contributed to Bandai's gachapon legacy. The fact that there were more than enough fans of the series willing to purchase the figures really helped both companies.
Evangelion also played a significant role in the field of prize figures, which are products that can be won in arcades via the UFO Catcher or similar games.
Although Evangelion figures were available as prizes since it began its broadcasting, 2001 was the year when things really changed. That year, reputable creators including Takeshi Miyagawa and Yuki Ageta—who had produced numerous Evangelion garage kit figures for Wonder Festival and for regular retail sales—began working on prize figures. At the time, copyright holders recommended that having prizes made by famous creators would be a good idea, and it certainly was. Being able to win a complete and fully colored figure made by someone like Miyagawa or Ageta seemed almost revolutionary to many. From that point on, new Evangelion Sega prizes were made available almost every month, and a larger number of famous creators joined the field of prize figures. This significantly boosted the quality of prizes.
Evangelion and Painted PVC Figures
During the first few years of the new millennium, numerous changes dramatically affected the world of figures. Affordable painted PVC figures became increasingly popular, and even began to replace the larger and more expensive cold cast figures. Around 2005, an extreme growth in posable figures was also observed. Overall, figures were becoming an increasingly important part of character-related content for fans.
During this period, the general popularity of Evangelion was slowing down.
Years have passed since the Evangelion movie was released in 1997, and although the manga series continued, there wasn't anything new being released. The same could not be said about its figures, though, as Evangelion's involvement and popularity in the world of figures remained unchanged.
New Evangelion figures continued to be released on a regular basis in a booming figure market. Because Evangelion characters were now very well known, and because the nature of the series allowed creators to work freely with concepts and designs (even if they seemed ever-so-slightly strange), many variations of Evangelion figures began to emerge. These new figures were closely supervised and met with rigorous review processes. Even Yoshiyuki Sadamoto, who was involved in the original character designs, participated in the supervision. The ruling idea at the time was that supervised figures of the highest quality must be produced in order to allow characters to overcome fierce competition.
The 20-Year Relationship Between Evangelion and Figures
In 2007, Evangelion started something new with the Rebuild of Evangelion film series. Evangelion: 2.0 You Can (Not) Advance from 2009 delivered brand new characters and mecha that served as new motifs for popular figures and products. The new Evangelion figures also developed a new style as they became products in Banpresto's "Ichiban Kuji," a lottery system providing limited numbers of tickets that all guaranteed a prize. Although animation production shifted to Hideaki Anno's company, Khara, the depth in knowledge of figures and the Amateur Licensing System related to Evangelion both remained.
Over the past 20 years, Neon Genesis Evangelion and the genre of figures have shared a tight bond, experiencing various forms of development and evolution together. This article only briefly outlines how things unfolded, and it is probably best to refer not to further text or photographs, but to the figures themselves to gain a better understanding. Wonder Festival recently held a special exhibition of the history of figures, and will surely continue to serve as a key event for figure enthusiasts to enjoy and also learn from.
* Cold-Cast Figure

Cold-cast figures were common before the emergence of painted PVC figures. They are created with a combination of plaster and resin, resulting in a product that felt heavier and more solid. These types of figures were produced in fewer numbers than PVCs, and were generally more expensive.
* Figure Pricing

Capsule figures that were available for 200 yen are considered to be a form of lost technology, as the cost of labor in Chinese factories as well as the price of raw materials continues to increase. The price of PVC figures also inflated from around 3,000 yen to the 15,000 yen range.
* Entrance to Wonder Festival

Instead of using a traditional ticket, entrance to Wonder Festival is granted by presenting the Wonder Festival Guidebook. The guidebook can be purchased directly at the venue on the day of the event, and features an article that looks at Evangelion and figures in a perspective that differs from that of this article.
The Evolution of Figures and Neon Genesis Evangelion
Evangelion's Appearance and the Evolution of Garage Kits
Evangelion's Push in Developments of Figure Production
Back