The Evolution of Figures and Neon Genesis Evangelion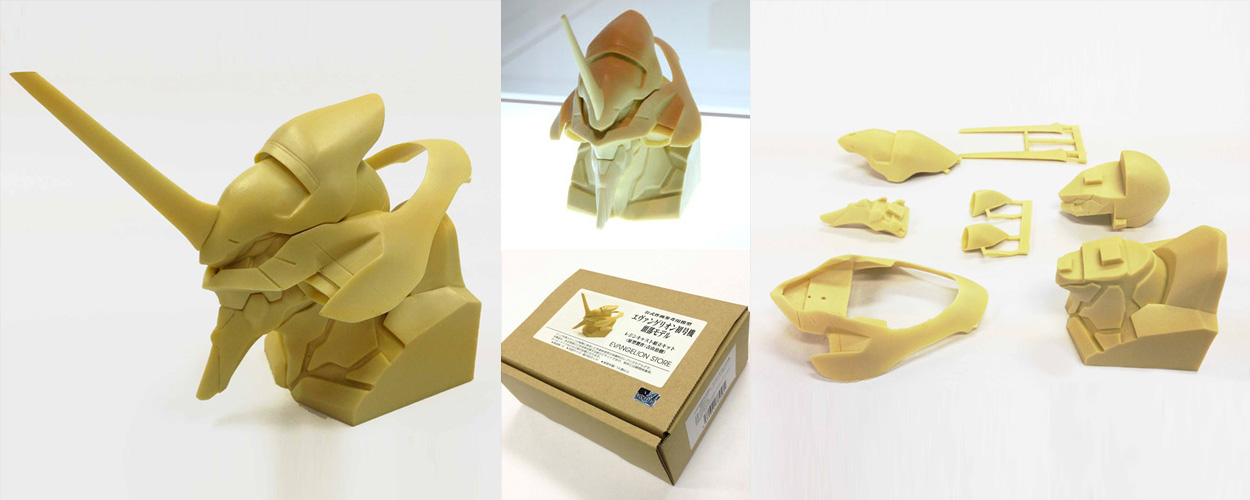 Where It Begins: Garage Kits and General Products
Before touching upon the connections between Wonder Festival and Evangelion, or that between figures and Evangelion, a discussion about the history and origin of figures in Japan is necessary.
Unlike present times, when the majority of fans accept and embrace figures as a common genre of character goods, figures used to serve as a very minor area of interest for only some enthusiasts. The figures were what we call garage kits, which are model kits made by amateur creators that were produced on a small scale. Because the kits were made in small numbers, the creators were able to put in a degree of detail that was impossible for mass produced retail products to handle. It was during the first half of the '80s in Japan when the garage kit movement began, starting off in an environment dominated by special effects and creatures like Godzilla. At the time, there were many who grew tired of the limited toy selection available on the market, and turned to garage kits when they wanted something more than what the stores offered.
When there is demand, supply quickly comes to meet it. As garage kits grew in popularity, manufacturers that provided garage kits as products began to emerge. Kaiyodo and Volks were among this group of manufacturers. There was also a sci-fi shop mixed in called General Products that produced goods related to sci-fi, anime, and special effects. Of course, garage kits were part of their main lineup. The majority of us actually know General Products, even if the name sounds unfamiliar. General Products is the predecessor of Gainax, the anime production company that created Neon Genesis Evangelion. This is the first link that ties together figures and the Evangelion series.
General Products and Wonder Festival
General Products went on to hold the first event that was dedicated to figures. The pre-event gathering held in 1984 attracted approximately 10 dealers and 700 participants to the venue in Osaka. In the following year, General Product's main event took place in Tokyo, consisting of a total of 60 dealers and around 2,000 participants. Over the decades, the event has evolved and is now what we commonly know as Wonder Festival. Despite the fact that it is currently run by Kaiyodo, its beginnings are deeply rooted in the operations of General Products, making Wonder Festival directly connected to Evangelion.
Wonder Festival and Bishoujo Figures
Although Wonder Festival may appear mainly to be a conglomeration of manufacturers, their new lineups, and also figure-related announcements, amateur creators are really at the heart of the event. Garage kits that are licensed and made available at Wonder Festival are what make it so special. Over the years, monsters and robots have continued to accompany the growth of garage kits at events, but a strong push made by bishoujo figures became increasingly evident. Characters such as Anice Farm from Sonic Soldier Borgman and Kimagure Orange Road's Madoka Ayukawa are just some of the notable characters who have swept figure enthusiasts off their feet, leaving a clear mark on the genre.
Early in the '90s, a bishoujo figure revolution that challenged the monsters and robots was led by none other than Sailor Moon. The series could be described as an incredible phenomenon during its early years, and it retains its immense popularity even after 20 years. Of course, the impact of Sailor Moon on the world of figures is enormous. This is not only because of how much it was loved by enthusiasts, but also because it created a boom in the development of technology that allowed for the transformation of bishoujo characters from two dimensions into three.
With adorable bishoujo figures available almost everywhere now, one might easily overlook the fact that creating such three dimensional figures is an exceptionally difficult task. Numerous new techniques had to be developed before the Sailor Moon characters could become figures, and an unimaginable amount of creation, revision, and repetition was involved. Add the aesthetics and style of each creator who was part of the production process to the mixture, and what resulted was a type of figure unlike anything the world had seen before. It was the imagination of the creators, as well as the capacity of garage kits allowing imagination to become concrete reality, that really propelled the evolution of bishoujo figures forward.
The Sailor Moon series and all of its characters were popular among incredible numbers of fans; so popular that sometimes the Sailor Soldiers' colors would wash over venues of figure events. However, it should be mentioned that the domination of Sailor Moon did not happen at Wonder Festival, since the copyright holders only permitted the usage of its name and content in JAF-CON, which was a Bandai event.
As Wonder Festival began to feel the growing pressure exerted by JAF-CON, a very special garage kit was released at the festival in August 1995, two months before the anime was broadcast on television. The kit consisted of a head model from the Neon Genesis Evangelion series that served as a reference for designs and illustrations. It was the first ever Evangelion figure ever created, and it clearly showed the strong connection between figures, Wonder Festival, and Evangelion.
(Continued)
* Garage Kit

Garage kits are model kits produced in smaller numbers with labor-intensive casting processes. They are known to directly reflect the skills, personalities, and aesthetics of each creator. These elements make them different from mass produced plastic model kits made from larger manufacturers. Although a variety of different materials can be used, resin cast kits have become mainstream. Garage kits may be made with white or ivory resin, and are often more difficult to assemble and color than mass-produced plastic models. Before the age of the painted PVC figures, garage kits were the highest quality figures available, and were often sold as regular products in plastic model shops.
* Wonder Festival

Following the pre-event gathering of 1984, Wonder Festival began in Tokyo in 1985 as the largest figure event in the world. The festival started off under the operation of General Products, but was transferred to Kaiyodo in 1993. There are generally two festivals each year, and the most recent Wonder Festival featured 1,881 dealers, along with 55,687 participants. Dealers at Wonder Festival are equivalent to what are referred to as circles that consist of groups of participants at Comic Market and other doujin events. The One-Day Limited Licensing System is one of the most unique traits of the festival.
* One-Day Limited Licensing System

Garage kits and any other products that are related to or feature copyrighted content need to be officially licensed. Having said that, during the earlier years of garage kit production and distribution, some kits and products were traded without proper licensing. The transactions took place under the name of fan activity, and of course, they were illegal. As the skills of the enthusiasts and creators became increasingly refined, putting garage kits on the same level as retail products if not higher, this became an issue for companies and manufacturers. In response, the One-Day Limited Licensing System was introduced, which allows the organizing body of the event to serve as a point of contact that connected dealers and copyright holders. Through the system, amateur creators at Wonder Festival could have their products licensed, and legally sell their products at the festival.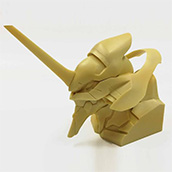 Featured products
Official Reference Model - Evangelion 01 TEST TYPE
Head Model (Resin Cast Assembly Kit
EVANGELION STORE
The Evolution of Figures and Neon Genesis Evangelion
Evangelion's Appearance and the Evolution of Garage Kits
Evangelion's Push in Developments of Figure Production
Back