Evangelion's Appearance and the Evolution of Garage Kits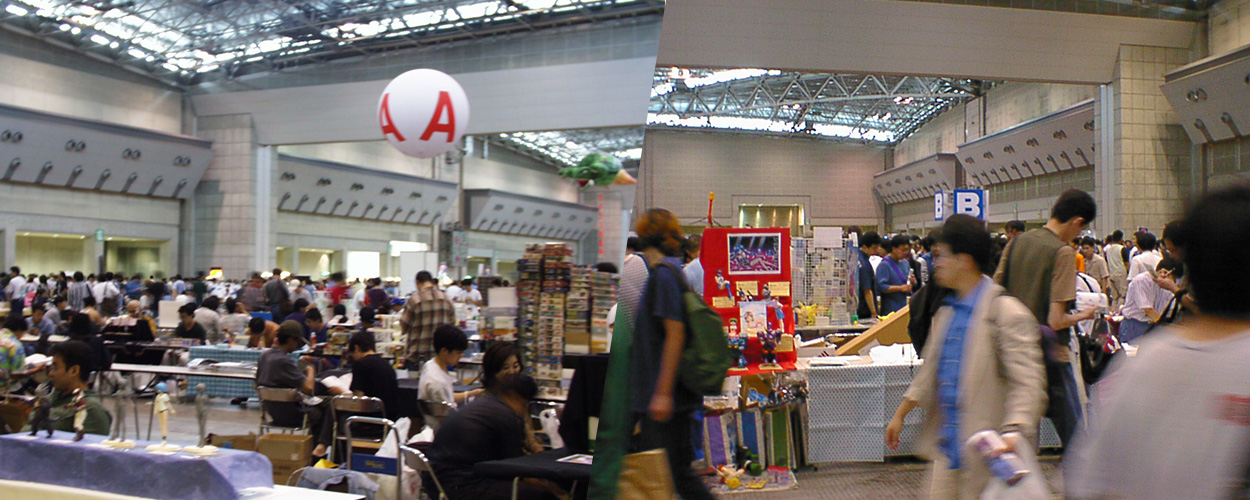 The First Evangelion Garage Kit at Wonder Festival
August 1995 marked the arrival of the first ever Eva garage kit at Wonder Festival. Designed by Naoki Yoshiyama, the kit captured the complexity of Evangelion 01 Test Type's head, and was used as an actual reference model for designs and illustrations.
Not only did director Hideaki Anno and the rest of the Evangelion animation team have connections with General Products, they also had a good understanding of figures and how they could be used as three dimensional references. The first Eva garage kit helped staff make the Test Type look even better, which then led to a complete Test Type figure by Yoshiyama. A kit would be created, and better designs and illustrations would be the result. Based on the designs and illustrations, improved kits could then be produced. Through this pattern, anime production and figure creation worked hand-in-hand for very positive results.
Aside from magazines, the first item related to Evangelion that reached fans was the original garage kit made available at Wonder Festival. This means that the head model could certainly be considered as the first step forward in the partnership between figures, Wonder Festival, and Neon Genesis Evangelion.
However, the first step was not quite as big as one might imagine, as the number of Evangelion garage kits sold at Wonder Festival remained in single digits. Sure, Yoshiyuki Sadamoto's manga started to make its mark on Shonen Ace, and also managed to reach the cover of Monthly Newtype, but the series still remained under the radar. Many participants of the festival would find the kit and end up asking themselves what character they were looking at. We cannot say that this result was unexpected, though.
The Boom of Evangelion and Wonder Festival
In October 1995, Evangelion was broadcast as a television anime series, which received an absolutely enormous response at the time. Gainax worked hard to encourage manufacturers and creators to make products based on their series. Their efforts resulted in a long lineup of garage kits and other three-dimensional items to be released for retail and made available to the public.  
The first commercially released Evangelion garage kits were purchased by fans at Wonder Festival in January 1996, while the anime was on air. At the venue, Kaiyodo and Kotobukiya both had brand new Ayanami figures available, which were met with seemingly endless lines.
In addition, the original head model of the Test Type was re-released at the festival. Unlike the results derived from its first appearance, the head model caused a line immediately after the doors opened, and the stock of over 200 kits was instantly depleted!
Some Evangelion garage kits were not available at the time due to deadline issues with Wonder Festival and the One-Day Limited Licensing System. Six months later and properly licensed, the same kits went on to make incredible sales during the summer festival, where the venue was completely covered with Evangelion garage kits. At the time, the festival was heavily pressured by Bandai's JAF-CON that solely held licenses for popular series such as Sailor Moon and Mobile Suit Gundam, and found strength in their new popular series. Evangelion was able to do what the organizers wanted by breathing life into Wonder Festival.
Neon Genesis Evangelion garage kits available through One-Day Limited Licensing and as retail products continued to establish a mighty presence in the world of figures. A large number of new figures were released, and some manufacturers released so much that one could almost expect to see a brand new product each month. The growth of the series was accompanied by further developments in figure creation and presentation techniques, as Evangelion encouraged many fans to begin experimenting and making kits of their own. Some of the these newly inspired creators and designers would later become professionals who would influence the entire industry. Because of Evangelion, both the quality and quantity of figures increased exponentially.
Changes in Evangelion Garage Kits and Wonder Festival
Garage kits that were made available as retail products began being replaced by PVC figures that were fully assembled and colored from the '00s (we can go over the details another time). However, the fun of creating something enjoyable and new, while also having the chance to share it with others through One-Day Limited Licensing, allowed garage kits and Wonder Festival to remain important players in the world of figures.
This did not mean that Evangelion garage kits were free of changes in the new millennium. Around the year 2000, Eva and Its Merry Friends - Clothing Removal Instrumentality Project provided One-Day Limited Licenses, and gave birth to many garage kits that involved characters with less clothing. The kits were made as parodies of the series, and clearly showed how licenses allowed enthusiasts to create freely according to their own will. In 2002, changes in licensing made it even easier for those who were willing and capable of producing to do so, as the Amateur License System was launched and made available to creators.
Neon Genesis Evangelion played a tremendous role in the evolution of garage kits and Wonder Festival over two decades. The culture that arose from garage kits would go on to join the Evangelion series in influencing figures as well as other products.
(Continued)
* Eva and Its Merry Friends - Clothing Removal Instrumentality Project

This is a PC mahjong game released by Gainax in November 1999, with artwork created by popular manga artists and reputable illustrators. Characters including Rei and Asuka from *Neon Genesis Evangelion*, as well as Noriko, Kendo, Kaoru, and Coach Ohta from *Gunbuster* were featured. Losing characters of the mahjong games would be forced to remove pieces of clothing.
* Amateur Licensing System

A new system introduced by Gainax as an alternative to the One-Day Limited License. Instead of only being valid for the day of the event, Amateur Licenses were valid for one year, and allowed amateur creators to produce and sell the certain number of garage kits that they applied for. This meant that creators could sell their products at different events, and even online through their own websites. Amateur Licenses also made it possible for the formation of dealers and mini-manufacturers.
The Evolution of Figures and Neon Genesis Evangelion
Evangelion's Appearance and the Evolution of Garage Kits
Evangelion's Push in Developments of Figure Production
Back