It's the middle of the '90s. How did the life of this designer who started out in club music and with a single Macintosh get caught up with Evangelion? The fourth guest in route2015's interview series is the graphic designer Masashi Ichifuru, who was responsible for much of the design of the Rebuild of Evangelion series, including theatre flyers and home media packaging. In this interview he talks about being a teenager engrossed with clubbing, his home neighborhood of Kichijoji, and the world of computers and cycling culture that he came to love from a young age. With these seemingly diverse factors organically influencing each other, before he knew it he fell into the anime scene.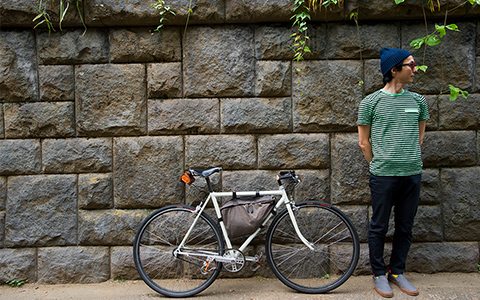 Ichifuru's Favorite Music and His Macintosh

"I was born in Inokashira, Tokyo. In my teenage years my main stomping ground was Kichijoji, an area that was unique, even in '90s Tokyo. For example, out of the 23 wards, Aoyama had fashion, Akihabara had electronics and so on, so the color of those neighborhoods and the ambience of people who lived there was different. But Kichijoji wasn't like that. There were many anime studios, and while on the one hand there were stores like Animate, there was also everything from fashionable select shops to record stores. It was a place where many cultures coexisted side-by-side. As I grew up in that kind of area, naturally I had a chance to come into contact with different cultures. However, I didn't feel like I needed to embrace a strange complex towards one culture in particular, or become absorbed into one type of field. Looking back, I think this can also apply to my stance regarding my current work."
TGB design was built by three male graphic designers. Ichifuru, as one of the staff, handled the design for promotional materials and the Blu-ray/DVD packaging of Rebuild of Evangelion. The company's foundation was in 1994, one year before the Evangelion TV series first broadcast. While attending preparatory school with a view to enter art college, Ichifuru, enamored with club music, became involved in Tokyo nightclub culture. Requested by colleagues to make event flyers, he began producing them half in fun.
"At that time, ordinary people came to be able to buy a Mac. I somehow managed to buy my first one when I was a high school student, and even without being employed by a design company, I was able to mimic design work as long as I had a Mac. I think perhaps we were the first generation that was able to work in those kinds of circumstances. Around the same time, the Tokyo club scene was on the rise. Whilst partying, I got to know DJs and people from indie labels, and they gradually began to request designs for CD jackets. As long as I had the Mac software I could do the visuals and the music, and since I personally liked dance music I started to DJ. Now that I think about it, at the time I maybe didn't even have the clear awareness that I wanted to become a designer.
With just one Mac, anyone could become a creator. In Tokyo in the latter half of the 1990s, in what is known as the "Heisei slump," the leading parts were played by young people like Ichifuru, the "nobodies." Like fashion designers in Harajuku becoming millionaires after starting with just one T-shirt, the club scene was born, with new fashion, music and art, and finally became sucked up by the mainstream.
"With the existence of the Mac, underground music and design started to work together well, and began to function as a business. Our activities were always close to the club scene. Conversely, we didn't want to do any jobs related to things we didn't understand, and we were still inexperienced. Even still, what we came to swallow was the fact that there were sidelines that were spared by the era."
It's been 20 years since the company's formation. From their diverse fields to large companies like Toyota and docomo to fashion companies like Beams, United Arrows and nano universe, TGB design is unceasing in their love for the job. Originally they were each freelance designers, and came to work in a flexible system, tackling projects as a team. However, the field has continued to expand, and today their work extends from interactive media design to robots and mobility research and development. In these circumstances, in 2015 they set up a new company, TGB lab. This company undertakes production and management work with creators and producers from diverse fields. With this framework as a base, they will perhaps merge further with science and technology, and now they are focusing on the next 20 years.
"We make into work the things we truly agree with. Keeping this motto in mind, we haven't changed since we started."
While making the best of individual intuition, TGB are aiming towards a more open design. Looking back to 2007 when Ichifuru encountered Evangelion, it was perhaps a critical transition period. The theme of this fourth episode of route2015 is the relationship between graphic designer Masashi Ichifuru and Eva. We'd like to search both now and back into the 20 years of both parties that were sprung from the wildly different fields of music and anime.