The anime shop Animate opened the doors of its first shop in 1983 in Ikebukuro, Tokyo. Movic Co., Ltd. is the company behind Animate that also plans and produces over-the-counter Animate goods, special anime goods you can encounter in shops and related events. It's not an overstatement to call it a genre upgraded and developed by Movic that targets Animate users. How much influence did Evangelion, this unprecedented smash-hit, have on such a company that gives birth to more than 4,000 products a year? route 2015 has been walking hand-in-hand with Eva for 20 years, focusing on the people who, just like the series, have been continuously changing. In our second interview, we deliver the story of Katsumi Yasuda, the designer of Movic's Evangelion products.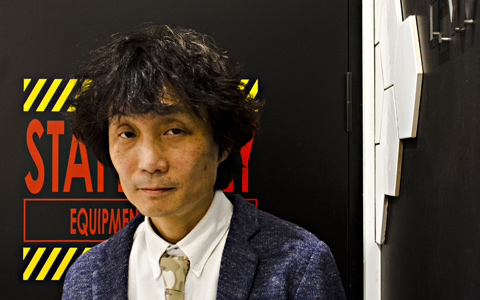 The "All Episodes T-shirt" Series: A Masterpiece that Sold Over 100,000 in Total
"For a short while after Neon Genesis Evangelion started broadcasting, our workplace was in a state of mild panic. No TV anime had ever hit with such force before, and no matter how many products we made, they were cleared out as soon as we put them on the shelves. At the time, many of our staff were working day and night, trying to come up with something, thinking only about how many Eva products we could send to the shops."
Character T-shirts are considered a standard among anime goods. But do you know how many can be sold with the same pattern? According to Yasuda, who has been making well-selling products for Japan's largest anime shop for 30 years, "In this world, selling a few hundred with the same pattern is considered a hit."
"Up until only 10 years ago, it was customary that anime T-shirts had characters printed on them, and they weren't really sold outside events. One series of Evangelion T-shirts we made at that time was the 'All Episodes T-shirts.' They came in 32 kinds with the subtitle screen for each episode of the series and the subtitle screens of the old movies printed on them. More than 100,000 were sold in total, the most popular among them being 'Angel Attack' from the first episode.
"The 'All Episodes T-shirts' are long-run hits that continue to sell even now, 20 years after the birth of Eva. They are very simple T-shirts with bold white Mincho "Matisse-EB" letters on a black body. To the anime fans of that time, the design itself with no character pictures or anime title was out of the ordinary.
"At the time of its release, the T-shirt series was wildly opposed by Animate staff. Angrily, they asked me where I was going to put so many T-shirts (laughs)."
In route 2015's second interview, we welcome the mastermind who made the "All Episodes T-shirts" a success: Katsumi Yasuda from Movic, who has been participating in the designing and making of Evangelion merchandise that are sold in Animate shops and movie theaters for 20 years. Yasuda, who has given the world numerous anime goods, is weaving a new story made possible by his encounter with Eva.